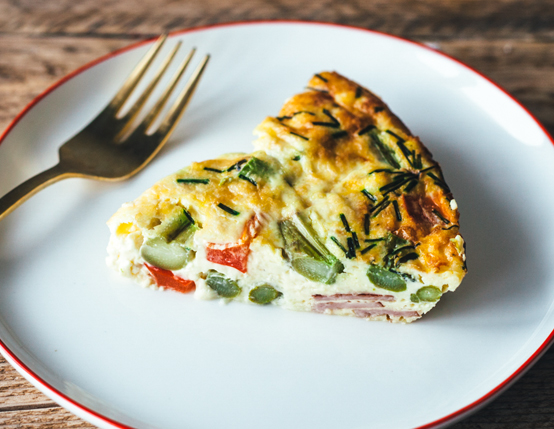 Bacon Asparagus Smoked Gouda Egg Bake
4 Servings
Ingredients
500 g thick-sliced bacon
10 eggs
3/4 cup all-purpose flour
2 cups shredded smoked Gouda or Cheddar cheese
1/2 cup chopped green onions
1 cup milk
1 container sour cream
1/2 teaspoon crushed red pepper
500 g fresh asparagus spears
3/4 cup red bell pepper, chopped 
Directions
 cook bacon over medium heat, stirring occasionally, until crisp; drain.

Meanwhile, in large bowl, beat eggs, flour, milk, sour cream and crushed red pepper with whisk until blended.

Stir in asparagus, bell pepper, green onions, three-fourths of the bacon and 1 1/2 cups of the cheese.

Pour into baking dish.

Bake 35 to 45 minutes or until mixture is set in center; top with remaining bacon and cheese during last 5 minutes of bake time.
Know someone who likes this? Share it